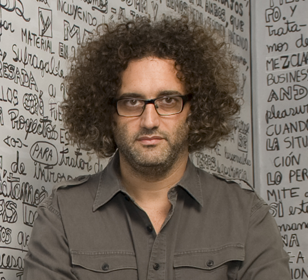 When you look at Abner Benaim's filmography, there's no denying that he is at the forefront of Panama's young film industry. Having developed a number of film projects to fruition by wearing various hats (director, writer, producer, cinematographer), he has become one of his country's most seasoned professionals in the business. In 2014, he directed 3 films (the feature documentary "Invasion" and segments for "Short Plays" and "Panama Canal Stories") and he is currently working on his next projects. Following a warmly-received screening of "Panama Canal Stories" this week, I reached out to Benaim to discuss his filmmaking. Despite his busy schedule, he graciously took some time out to answer my questions about his films and Panamanian cinema in general. Below is the transcript of our conversation...
Shane Slater: Last year you earned the distinction of being the first Panamanian director to be submitted for the Foreign Language Film Oscar (for "Invasion"). What was that experience like?
Abner Benaim:
It's always good to have your work recognized, for the obvious reasons, and to be able to send a film to the Academy is of course a big step for me and for Panama's film industry. I hope we have plenty more to send.
SS: Both "Invasion" and "Panamal Canal Stories" have political aspects in their theme and narrative. Is this an aspect of filmmaking you plan to actively incorporate in your films moving forward?
AB:
I'm interested in many things, some of my films have been personal in nature, some social, and these last two deal with history and memory more than politics per se. My next film is actually a drama with no relation to either, just a human drama, so I guess the themes in my films will keep on being varied.
SS: Your segment in "Panama Canal Stories" stands out as the most humorous in the film. What inspired this story and made you decide to take this approach?
AB:
The main character we came up with was the driving force for this story, and because this chauffeur turned spy was supposed to be funny, the whole piece leaned towards humor. When the producers approached me, they wanted comic relief in this part of the film, and I agreed because I thought this story in particular lent itself well for that. The fact that we don't know if the whole story is true or false already puts the short in an imaginary world, and from there, it was easy to take it one step further into actual comedy.
SS: Your lead actor (Luis Manuel Barrios) is fantastic as the chauffeur/spy and according to IMDb, this is his first acting credit. How did you find him and get him to play this part?
AB:
He was a grip working in the production and stood out for his personalty and humor, so he was asked by production to test for me to watch. When he did it, I immediately recognized his talent. I love working with non actors, and its always gratifying to see that they can do their part in a refreshing, unpredictable way.
SS: Panamanian cinema has been getting increased attention due to the growing profile of the International Film Festival of Panama, as well as the presentation of your two recent films at this year's Cannes Film Market. What is your take on the state of the Panamanian film industry?
AB:
I think Panama's film industry is just beginning, but things are changing and going in the right direction slowly. When I made my first feature "Chance", it was the first local film to be released commercially in Panama in over 60 years. We didn't have a film fund then, or a film fest, or rental facilities. Not even a full crew. That was 5 years ago, and now we have all of the above, and last year 3 local films played in theatres ("Invasion", "Panama Canal Stories" and "Breaking the Wave"). So i'm glad that things are getting better, but I am well aware that we are still somewhere very close to the starting line and have a long way to go from here. That's exciting for me.
SS: What's next for you?
AB:
A feature film called "Biencuidao" (winner of the Best Project Award at Berlinale Project Market) to be shot next year. I'm also working on another documentary.
Click here
for my review of "Panama Canal Stories".