Let's be honest. This wasn't the best year for animated films. Especially coming off the strong year that was 2012, the past year definitely paled in comparison. Still, I remained diligent and managed to catch a total of 12 out of the
19 eligible contenders
. Read on for my thoughts on all the films, as well as my predictions for the Oscar nominations:
"
Epic
" from Blue Sky Studios feels like a failure coming from an appealing concept. This environmental yarn is about tiny forest creatures struggling to save the forest in your typical battle of good vs evil. Unfortunately, its promising pro-nature message loses its power when the main defenders of the forest are disappointingly humanoid Leafmen. One would think they'd at least be fairy-like. The pretty animation and some decent voice acting are really the only saving graces of this uninspired film.
Rating
: ★★1/2
Dreamworks Animation's big hope for Oscar glory this year comes in the form of the prehistoric adventure "
The Croods
". This lively film follows a family of cavemen (the title characters) as they trek through unknown territory to find a new home. As we tag along with the Croods, there are a few very promising moments. Sadly, it mostly foregoes character or narrative depth for its cheap thrills. Still, I'd be lying if I said it didn't make me chuckle a few times. It also has a nice emotional payoff at the end.
Rating
: ★★★1/2
With the original film losing the Oscar back in 2002, Pixar will be hoping to remedy that disappointment with their prequel "
Monsters University
". They have a good shot too, as this is one of strongest animated films in the race, based on pure enjoyment level. The script explores the college days of monsters Mike and Sulley, prior to becoming best friends. Their typical college shenanigans provide much entertainment, but the G-rating admittedly makes it feel more like high school. Furthermore, the script simply isn't as inspired as the studio's most lauded works. That being said, there's still enough quality involved (top-notch animation, voice acting and score) to keep you invested.
Rating
: ★★★★
One of the main foreign contenders this year is the tale of "
Ernest & Celestine
", distributed by GKIDS. This story is about a bear (Ernest) and a mouse (Celestine) who strike up an unlikely friendship based on mutual empathy. Unlike many of the other major contenders, this film uses hand-drawn, watercolor animation that is absolutely beautiful. It really gives the film a lot of character, fitting in perfectly with its jaunty French humour. The endless charm of this story is sure to beguile audiences and make it one of the most beloved films of the year.
Rating
: ★★★★1/2
Universal Pictures' lone entry in this race is the box office hit "
Despicable Me 2
". This sequel follows a reformed villain named Gru (voiced by Steve Carell) who gets recruited to defeat a nefarious new enemy. Much like the previous film, this installment relies heavily on Gru's henchmen (the Minions) for much of the entertainment. They are unfortunately the film's main saving grace, as the script is very uneven. There are some amusing moments, but a lot of it is downright boring. The amusing Minions and intriguingly off-kilter animation aren't enough to offset this lazy screenwriting effort.
Rating
: ★★1/2
Another Dreamworks film hoping to make its mark is the flashy underdog story of "
Turbo
". The plot centers around a garden snail who goes through a superhero-esque transformation to make him super fast. With his new speed he sets out to achieve his dream of competing in the Indy 500. Of course, this premise is absurd and the screenplay is thus nonsensical from start to finish. However, if you can suspend your disbelief you'll find Turbo's energy and passion to be quite infectious. Kudos also to the fine voice acting for the other characters (especially Paul Giammatti as Turbo's brother and voice of reason). Overall, this is a completely predictable film, but it's also very entertaining.
Rating
: ★★★★
Despite the less than warm reception for the "Cars" franchise, Disney decided it would be a good idea to create a spinoff called "
Planes
". Well, I'm sorry to say that this film is unlikely to garner much renewed support. Much like "Turbo", this is an underdog story about a cropduster with lofty dreams of being a racer. It's a familiar plot, but this interpretation is just too plain (pun intended). It's certainly not a terrible film, but everything about it is so mediocre (voice acting, animation and script). Let's hope we don't have to endure a sequel.
Rating
: ★★★
One of the more peculiar films in the race is "
A Letter to Momo
", distributed my GKIDS. It focuses on a young girl who clings to memories of her deceased father and harbors regret for ending their relationship on a sour note. As she struggles to move on, she meets a trio of grotesque creatures who act as her guardians and spiritual link to her father. As you can tell, it's one of the more dramatic entries in this field and this drama-comedy balance is a bit shaky in the beginning. In particular, the visual concept of the guardians is quite off-putting at first. However, this touching story slowly works its magic and wins you over in the end.
Rating
: ★★★★
The Smurfs are back in "
The Smurfs 2
", the unwanted sequel in this franchise by Sony Pictures Animation. The story follows our little blue men as they are forced to rescue the lone female in their community. The villain is once again Gargamel and his diabolical plan is to use her knowledge to create a legion of smurf slaves. Now I must admit, there are a few more laughs in this installment. Unfortunately, the overall product is even more dumb. Truly, this screenplay wouldn't feel out of place in a bad Disney channel movie. Props to Neil Patrick Harris and Jayma Mays for being so committed in these thankless roles. If only their talents could have been used in a better-written film.
Rating
: ★1/2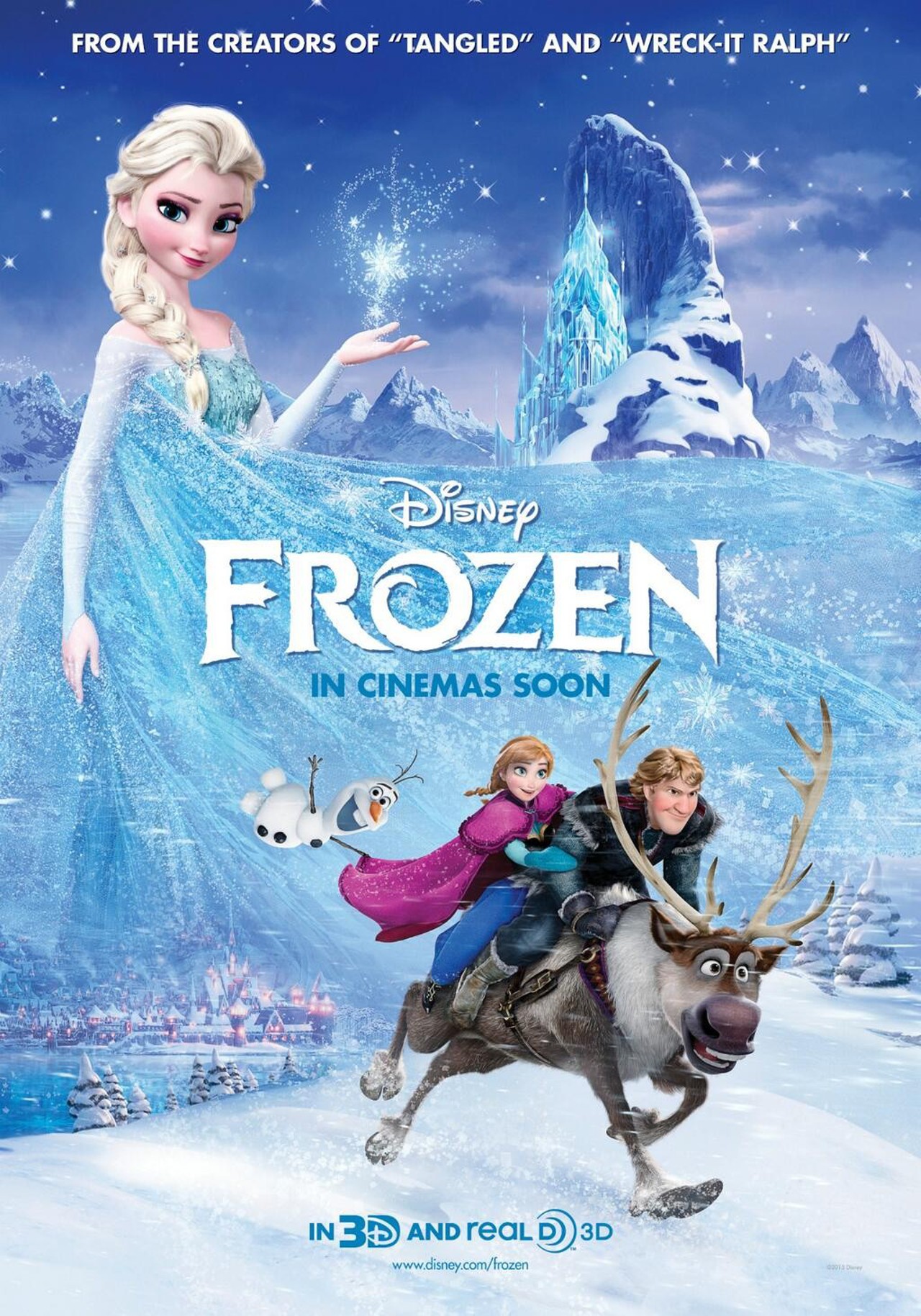 The animated musical is back in fine style with Disney's fun-filled adventure "
Frozen
". This ambitious film tells the story of princess Anna and her quest to find her sister Elsa, whose uncontrolled magical powers have frozen their kingdom. As she embarks on her epic journey, she makes some friends along the way, including a cheerful snowman and a handsome loner named Kristoff. This amusing trio takes us for an highly enjoyable ride with fantastic songs, gorgeous animation and most importantly - a unique and intriguing story. It may not scale the lofty dramatic heights of Disney masterpieces like "The Lion King" but it's a damn good effort.
Rating
: ★★★★
Up-and-coming South African studio Triggerfish Animation submitted their second Oscar entry this year with "
Khumba
". This little film is about a misfit half-striped zebra who goes on a daring adventure to earn his stripes. The animation, voice acting and screenplay are all good but nothing extaordinary. Mostly, I appreciated the sparse South African elements (accents, culture etc.) of it. It may not match up to the best that animation has to offer, but this pleasant offering bodes well for this studio's future.
Rating
: ★★★1/2
Yet another sequel in this field of contenders is "
Cloudy with a Chance of Meatballs 2
". This adventure comedy follows the protagonist Flint Lockwood as he attempts to stop one of his inventions from producing an epidemic of "foodimals" in his home town. As you can guess, this is a strange film, but is it worthwhile? Well, unlike the first film this one doesn't tickle the funny bone as much. It's still fairly enjoyable but its cool animation style can't make up for its unimaginative plot. If you get a kick out of endless food puns then you'll find this very amusing but otherwise, it's bound to leave you wanting more.
Rating
: ★★★
Here's how I'd rank these films (in order of preference):
Ernest & Celestine
Frozen
Turbo
Monsters University
A Letter to Momo
Khumba
The Croods
Planes
Cloudy with a Chance of Meatballs 2
Epic
Despicable Me 2
The Smurfs 2
My prediction:
Best Animated Feature
Frozen
Despicable Me 2
Monsters University
The Croods
The Wind Rises