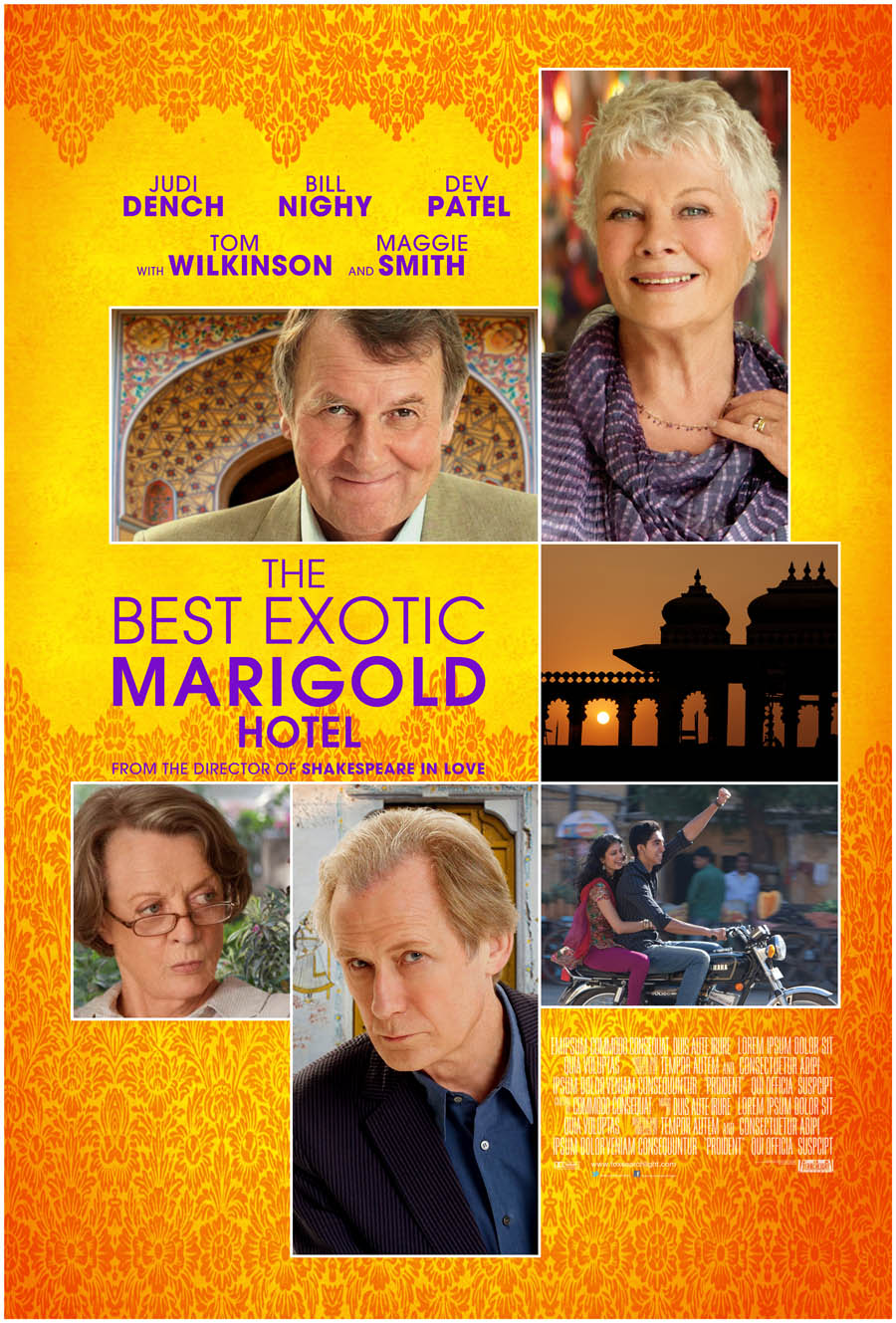 After its surprisingly strong showing in the early precursor awards, I decided to revisit "The Best Exotic Marigold Hotel" to see what all the fuss was about. Honestly, after I watched the film last year I never gave it a 2nd thought, but this viewing proved much more rewarding. On this occasion I was struck by the thematic depth of the script and was further impressed by the fine ensemble cast.
The film follows a group of British retirees who fly to India to relax in a supposedly luxurious hotel. Upon arrival they find that the country and the hotel itself are not what they expected and are forced to adapt to their environment. This results in many subplots as each character tries to find their place in this new world. With their different personalities and individual struggles, the cast has plenty to chew on. Thankfully, these veteran actors are more than capable, as they make the blend of comedy and drama seem effortless. Whether or not you connect with the story, there's no denying that these performers (Judi Dench, Maggie Smith, Bill Nighy, Tom Wilkinson, Penelope Wilton and Celia Imrie) are on their "A-Game". They really showed up Dev Patel's inexperienced "eager beaver" performance. The main attraction is probably Maggie Smith, who is very amusing as the haughty and slightly racist Muriel Donnelly. Her character's attitude is quite distasteful in the beginning, but she makes it hard not to be on her side when she's delivering such great "Maggie Smith-ness". Her facial expressions and reactions are truly one of a kind.
While most will say the acting is the only draw to this film, I feel there is a fairly substantial script underneath it all. The movie gives a nice brief introduction to Indian culture including the food, customs and basically the whole atmosphere of the setting. In addition, it gives a fascinating exploration into the struggles of old age. The individual struggles of these characters gave a wealth of insight into issues such as diminishing physical beauty and coping with death. Mainly, it's a nice reminder of the importance of one's willingness to adapt and change, even in your twilight years. It's a shame that the film is so resolute in maintaining its lite tone (for the most part), as it really could have dug in and lived up to its considerable potential. For me, it's just a minor complaint as I firmly believe that this film is nicely executed overall. It's a refreshing diversion to see these stories on screen, as modern film-making is largely geared towards young men (i.e. flashy blockbusters).
As I said earlier, this film has picked up some Oscar buzz that is worthy of discussion. Mainly, it seems to have 2 possible nominations in store -
Best Supporting Actress
(Maggie Smith) and
Best Picture
. Some cynical critics will still say it's a long shot for these nods, but I don't agree. This film should sit very well with the large number of older Academy members who will definitely relate more to the film than most bloggers/critics. Furthermore, the cast is highly-respected (as evidenced by the various Best Ensemble nominations it has already received) and we all know that the Oscars can turn into a popularity contest. If you're an Oscar pundit, this is one to watch for next week.