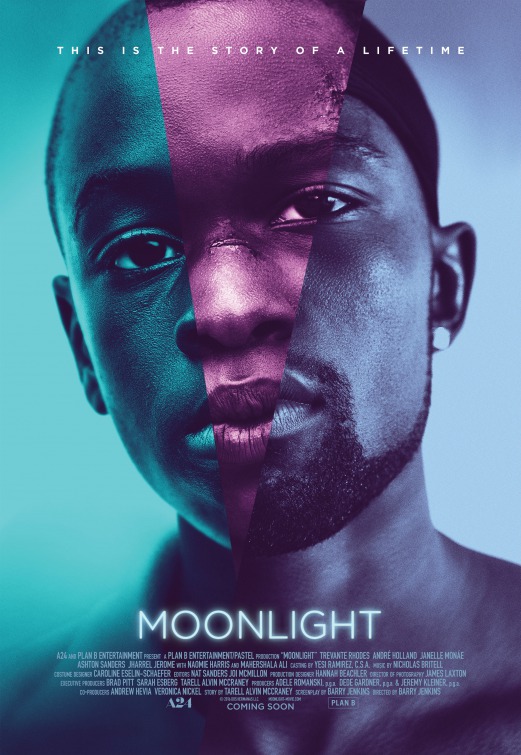 In a banner year for black narratives in cinema, there's no doubt that the crown jewel is Barry Jenkins' "Moonlight", an undeniable frontrunner for
Best Picture
,
Best Director
and
Best Adapted Screenplay
. This gem of a film is a beautifully wrought saga that achieves the rare feat of being both high art and captivating storytelling. Indeed, it's a standout in the black cinema canon, destined to be a considered a classic by future generations.
"Moonlight" is the coming-of-age story of a boy named Chiron. Shy and insecure, he struggles to fit in within the confines of his rough urban Miami community. His mother Paula (Naomie Harris) is a crack addict, his father is absent and he is constantly bullied at school. And in the midst of all this, he is also coming to terms with his sexuality as a gay man. Thanks to a supportive group of friends however, he manages to endure through the hardships. In particular, his fondness for childhood friend Kevin blossoms into lifelong affection. But the pressures to conform takes its toll over the years, threatening to prevent him from realizing and accepting his true self.
Chiron's self-actualization takes on novelistic proportions as we follow him through three pivotal stages of his life. Seamlessly portrayed by three gifted young actors with the aid of some astounding editing (if this film doesn't get a
Best Editing
, nod it would be a crime), the film has the scope of a grand epic. Yet Jenkins stays true to his modest indie roots, briefly checking in with the character for some of the defining moments of his life.
Though "Moonlight" is a film about the black experience, urban masculinity and the LGBT struggle, it conveys these themes without being emphatic about it. Indeed, perhaps the most impressive thing about Jenkins' elegant directing/writing style is how trusting he is of the audience. He doesn't need to show us the gun violence to instill a sense of danger, neither does he rely on explicit nudity or sex to make us understand the sexual underpinnings of Paula's desperation or Chiron and Kevin's intimacy. And you don't need to see characters behind bars to understand the cycle of mass incarceration that plagues this community.
This subtle approach is undoubtedly a risky gamble that feels all too rare for black cinema (especially when you consider the history of blaxploitation) and may not satisfy some viewers. But where the film lacks in plot specifics, it more than makes up for in stylistic flourishes. The film features expressive cinematography from James Laxton (worthy of a
Best Cinematography
nod), capturing mood, tone and story through revealing closeups and symbolic use of color. Likewise, Nicholas Britell's masterful score (a dark horse
Best Original Score
contender) reverberates with evocative instrumentals and choice song selections. You can practically sum up the film's themes through the introductory "Every N****r Is a Star" and the transformative use of Jidenna's "Classic Man".
All these elements create the film's artistic greatness, but what really captivates the audience are the authentic, powerful performances of its richly defined characters. In the film's most dynamic peformance, Naomie Harris (a certain
Best Supporting Actress
contender) is perfectly high strung as a troubled woman struggling to express her complex love for her son. As her surrogate is Janelle Monae, who fully embodies motherly kindness, living up to her character's name (Teresa). And by her side, Mahershala Ali has deservedly earned
Best Supporting Actor
plaudits for his performance as the wise but flawed father figure.
But ultimately, it's all about Chiron and Kevin, played marvelously by different actors in their childhood, teenage and adult years. Their palpable chemistry is the pining heart of the film, particularly between Trevante Rhodes and André Holland in the final act. Rhodes perfectly captures the various facets of Chiron's character, with a hardened exterior that melts away in Kevin's presence. Meanwhile Holland is effortlessly seductive and enigmatic as Kevin. Together they are the final grace note in the bittersweet ballad of Chiron and Kevin. And it's one that I'll surely be playing again in the future.