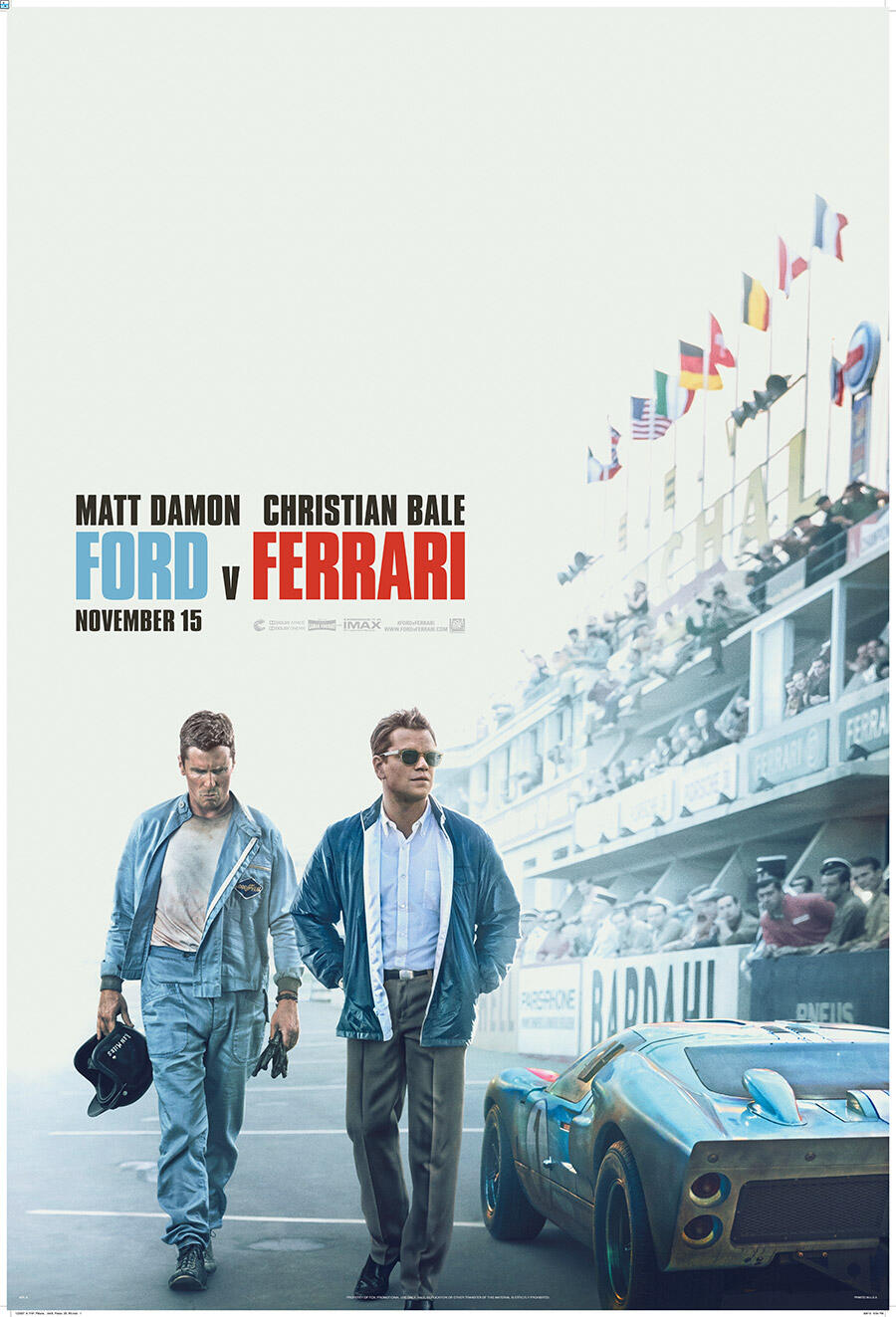 As Henry Ford II - aptly portrayed with gruff egomania by Tracy Letts - proudly reminds us in "Ford v Ferrari", the invention of the automobile (especially those made by Ford) completely revolutionized modern society. In the proceeding decades, a love affair with cars has been a staple element of consumerism, particularly for men. Today, those earliest wagon-esque models have evolved into sleek sports cars, prompting an obsessive "need for speed" as chronicled in this gripping new film from director James Mangold.
As the title suggests, "Ford v Ferrari" depicts the true story of the battle between rival automotive makers Ford and Ferrari. Representing the best of American and Italian innovation, they were at the forefront of the industry, with Ford representing the populist choice for everyday consumers and Ferrari representing the cutting edge of speed-oriented technology. As the 1970s approached however, Ford began to feel its influence fading. New generations craved forward-thinking style and sophistication, rather than boxy models that came before. So Ford hatches a daring plan to design a car to beat Ferrari on their most dominant stage - the 24 Hours of Le Mans race in France. Under the advice of a determined automotive designer/engineer named Carroll Shelby (Matt Damon) and his unpredictable but extraordinary driver Ken Miles (Christian Bale), they set out to secure bragging rights and ensure the viability of the company.
Unsurprisingly, "Ford v Ferrari" shines brightest when its on the race track, appropriately delivering edge-of-your-seat thrills with slick production values and nail-biting stakes. The film will surely figure into the Oscar races for
Best Sound Mixing
,
Best Sound Editing
and
Best Editing
. It gives you a visceral sense of the power of these cars and the real dangers being faced every time someone gets behind the wheel.
Indeed, while the film duly indulges the male fantasy of automotive prowess, the more unexpected grace notes are its elegant screenplay and strong character development. As the wily Ken Miles, Christian Bale turns in a performance as finely tuned as his souped-up Ford, combining lived-in naturalism with a distinctive persona. Likewise, Matt Damon's monologues about the existentialist experience of driving a car are a highlight of the film. If "Ford v Ferrari" were to net an Oscar nod for
Best Original Screenplay
, it would be due in large part to his eloquence.
Ultimately, "Ford v Ferrari" succeeds for its sincere empathy towards the relationships between men and their cars, and each other. Its depiction of masculinity, pride and male friendship feels authentic to the way men express their feelings. As the plot races to the finish line, those withdrawn emotions will likely catch up with you. For all its masculine bravado, this
Best Picture
contender turns out to be one of the most heartfelt films of the year.