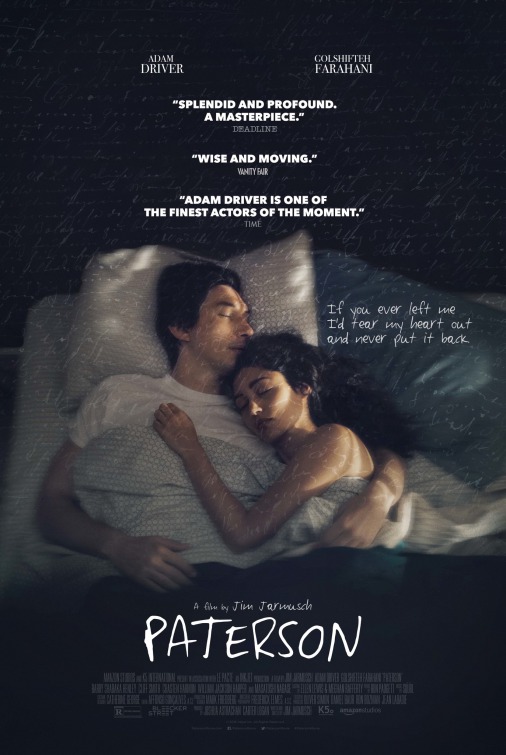 The year 2016 delivered fulfilling cinema experiences, but I'd argue that you won't find any as rich as Jim Jarmusch's "Paterson". To quote the awards campaign tagline for "The King's Speech", some movies make you feel. "Paterson" is one of them. This quiet drama radiates warmth and comforts you like a cozy blanket.
Appropriately titled, "Paterson" refers both to the name of its protagonist (played by Adam Driver) and the New Jersey city that provides the setting. It takes place during the course of one week in this bus driver's life, as he goes about his daily routine, waking and returning home to his beautiful wife Laura (Golshifteh Farahani). His days are also filled with poetry, as he draws inspiration from his environment to write in his notebook. Paterson is content with this simple yet satisfying life. Still, Laura - an aspiring country singer/artist/designer/cupcake-maker - hopes some of her own ambition will rub off on him, encouraging him to publish his poems. But only time will tell where the winds will take him.
With a pair of main characters interested in art and the plot's reliance on poetry, it would be understandable to levy the "pretentious" label on the film. Indeed, Farahani's supposedly struggling artist character is literally a dreamer with seemingly no worries in her life. Furthermore, the pacing is decidedly leisurely.
And yet, "Paterson" never strikes a false note. Far from a manic pixie dream girl, Farahani's makes Laura feel so real. She has a calming presence that feels absolutely sincere and conveys genuine kindness. And her sincerity fits perfectly into a screenplay that surprisingly never reaches for lofty existentialism. What Jarmush accomplishes instead with his minimalist screenplay, is a wonderful slice of quaint small city life.
Most crucial to the film's success however, is Adam Driver's pitch-perfect performance as Paterson. As a compulsive people-watcher, he is an ideal window into this world. We experience all the sights and sounds alongside him, witnessing snippets of what could be standalone film narratives happening all around him. As he encounters scorned lovers and chatty teens, the film invites us to ponder the comedy and poetry of everyday life.
Simply put, "Paterson" is a precious film. And in its own effortlessly bittersweet, life-affirming way, it reminds you to appreciate the little things in life. Unlike more showy films, its modesty is its greatest strength. Like Aristotle said, the whole is greater than the sum of its parts.