As I normally do every year, I tried to seek out all the eligible films for Best Animated Feature at the Oscars. Unfortunately, time constraints meant that I was only able to catch up with 9 of the submitted 16. But the good news is that I was able to see the ones most likely to be Oscar nominated (unless GKIDS crashes the party yet again). Here are my brief thoughts and predictions for all the contenders.
After relinquishing the animation spotlight to Laika and parent company Disney over the last two years, Pixar is back with a vengeance with no less than two new films this year - "Inside Out" and "The Good Dinosaur". The first of this duo, "
Inside Out
", has already been released earlier this summer to fervent acclaim, following a high profile premiere at Cannes. For fans of the studio - i.e. most cinephiles - the film was a triumphant return to form, proving they hadn't lost their knack for executing original concepts with appeal for the whole family.
Rating:
★★★★
Full Review
"
Shaun the Sheep Movie
", the latest caper from Aardman Animations, seems set to extend the studio's nomination haul in this category. Based on the TV series of the same name, it follows Shaun and his fellow sheep (and Bitzer the dog) as they hatch a plan to enjoy a day off from the monotonous daily routine on the farm. However, their day becomes more eventful than they expected, when they accidentally send the farmer careening into the city on a runaway trailer. Now, the gang must go on a search for their beloved farmer to restore peace and order to their home. The adorable whimsy we've come to expect from Aardman is on top form here, in a film that challenges our imagination like no other animated film released this year. "Shaun the Sheep" is essentially a silent film, relying on its endless sight gags to convey its charming story. The concept is totally refreshing and unique, though I did wish the plot itself showed as much creativity. It's basically the same run of the mill big city adventure we've seen countless times before. Still, you won't want to miss this one if you're an animation enthusiast.
Rating:
★★★★
The unfortunate news of the suspension of Studio Ghibli's filmmaking division has been well-documented, but on the basis of its last two films - "The Tale of The Princess Kaguya" and now, "
When Marnie Was There
" - there was still plenty juice left in the tank. As always, their latest is an elegantly wroughy film, centered on a young girl named Anna and her eventful summer in the Japanese countryside. "When Marnie Was There" plays like a darker "Inside Out", with a self-loathing character whose low self-esteem is exacerbated by her asthma, rejection issues from being adopted and her misfit status at school. As her foster parents send her to stay with relatives for fresh air and peace, she becomes inexplicably drawn to a mysterious abandoned house and a blonde girl she spots in the window, who may or may not be real. Watching Anna's new friendship with the strange girl unfold, you start to wonder if the title "Marnie the Pixe Dream Girl" wouldn't have been more appropriate, as Marnie's joie de vivre and kindness does get Anna out of her funk. This stereotypical trope is only one aspect of this complex film however, whose narrative deals in elements of family drama, ghost mystery, adventure, psychological horror and vague connotations of lesbian romance. Though it ultimately ends up being too diffuse to reach its full impact, the film is well-intentioned and its ambition is admirable.
Rating:
★★★★
It was only a matter of time before the iconic Charlie Brown would be given the 3D CGI treatment, and now that day has come courtesy of Fox's Blue Sky Studios. Bringing together the beloved Peanuts gang for another adventure, "
The Peanuts Movie
" tells the story of a year in the life of Charlie Brown, as he attempts to muster up the courage to woo the pretty new girl at school. Facing potential ridicule, embarrassment and failure, the ever insecure Charlie relies on the assistance of his dog Snoopy and his most supportive friends. As we witness his eventful year, the film crafts an adorable story that captures the spirit of the original comic strip. As such, it mostly just panders to the pre-existing fanbase (complete with Snoopy's own exasperating storyline) without much effort to reinvent the formula outside of the new age animation. But ultimately, that old school formula turns out to be just right, as the film delivers an appealing balance of humor and pathos.
Rating:
★★★1/2
It ain't an Oscar race without a quirky French film in this category, and "
Moomins on the Riviera
" definitely fits the bill. Based on a comic strip by Tove Jansson, this French-Finnish co-production follows a family of friendly creatures called the Moomins, who leave their forest home for the French Riviera where each of them become either enchanted or disillusioned by the high life. Like "Shaun the Sheep Movie", this is effectively another "country bumpkin comes to town" story, except less effective. The film provides light entertainment, from its simple hand-drawn animation, to its moralistic storyline. It won't make any year's best lists, but it's a fun diversion for the whole family.
Rating:
★★★1/2
After a very promising sneak peek presentation at TIFF, "
The Good Dinosaur
" became one my most anticipated animated films of the year. And for the most part, it didn't disappoint. The film tells the tale of a young dinosaur named Arlo, who embarks on the journey of his life to be reunited with his family after they are separated by a rainstorm. Facing the dangerous world with his dog-like human companion Spot, he gradually finds the courage he never knew he had. With some of the most photorealistic animated environments I've ever seen, "The Good Dinosaur" is a beauty to look at. Unfortunately, the story is a bit too conventional to fully resonate but I was impressed by its willingness to show some of the genuinely tramautic elements inherent in the script. A good film on its own, but Disney itself has made better versions of this story before.
Rating:
★★★★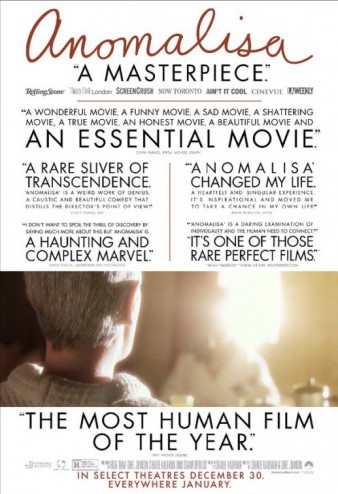 From the brilliant mind of Charlie Kaufman comes the year's standout animated film - "
Anomalisa
". Exceeding the ambitions of even the most sophisticated Pixar films, this adult-oriented stop motion film centers around Michael Stone (David Thewlis), a successful author and family man suffering from an existential crisis. During one work trip however, he meets a woman who rejuvenates him with the promise of love and companionship. Featuring a stellar voice cast, superb writing, innovative direction and striking cinematography, "Anomalisa" eschews the usual fantastical premises found in animation for a story that is painfully "real". It's such an important reminder that animation is a medium not genre, with no limits on its storytelling possibilites. And that's why it's a crying shame that the film comes to an abrupt end just as it starts to approach masterpiece status.
Rating:
★★★★
Never ones to be discounted, DreamWorks Animaition's Oscar hopeful this year is "
Home
", directed by Tim Johnson. This buddy comedy stars Rihanna and Jim Parsons as the voices of Tip (a teenage girl) and Oh (an alien), who are on a quest to find Tip's mother after the invasion of Oh's fellow aliens separated them. On a script level, "Home" is harmless and at times, downright weird. But the never pacing never lags, thanks to fun-filled adventure setpieces and palpable, affecting drama between its core characters.
Rating:
★★★1/2
Back in 2010 with "Despicable Me", a franchise of characters were unleashed, set for world domination. Those characters were the
Minions, the film's gibberish-speaking sidekicks and now stars of their own film aptly titled "
Minions
". In this installment, the Minions embark on a villainous plot to take over the world, as they seek a new master. What follows is an absolutely bonkers romp through space and time, with eye-popping animation to match. And even as I fully intended to hate it, I found myself laughing along with this fun, albeit exhausting film. But eventually the excitement wore thin, as the plot is so random that it often feels like improvised sketch comedy, and not in a good way.
Rating:
★★★
Here's how I'd rank these films (in order of preference):
Anomalisa
Inside Out
Shaun the Sheep Movie
When Marnie Was There
The Good Dinosaur
The Peanuts Movie
Home
Moomins on the Riviera
Minions
My prediction:
Best Animated Feature
Inside Out
Shaun the Sheep Movie
Anomalisa
The Good Dinosaur
The Peanuts Movie