For the second year in a row, I decided to make a concerted effort to catch as many of the documentaries on the Oscar shortlist as possible. This underseen genre always provides some of the most fascinating stories in cinema and this year is no exception. This time around I was only able to catch 8 (compared to 10 last year) from the shortlist and inevitably missed some of the strongest conteders. In fact, it's very possible that I haven't seen any of the eventual nominees! Still, there was much to appreciate in this sample. I found the subjects of this year's films to be truly outstanding, even in cases where the filmmaking techniques underwhelmed. So without further ado, here are my thoughts on those 8 films:
"
Tales of the Grim Sleeper
" is the latest documentary by British filmmaker Nick Broomfield. A probing work of investigative journalism, it digs into the case of the titular Grim Sleeper serial killer. Over the course of 25 years he is suspected to have killed over a 100 victims, mostly black women. Of course, this stagerring figure would imply a rigourous police investigation into the matter but what Broomfield found was quite the opposite. The murders took place in the impoverished black community of South Central Los Angeles, an area with a history of endemic problems with crack cocaine use, violence and prostitution. Viewing these people as a lost cause, the authorities effectively treated the murders as a natural process of cleansing the city of its human trash. As such, the Grim Sleeper (Lonnie Franklin Jr.) was allowed to wreak havoc.
Rating:
★★★★
Full Review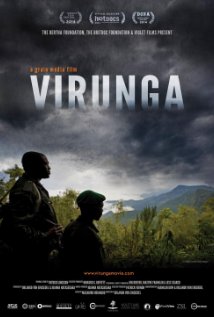 One of the most heart-wrenching films in this race is "
Virunga
", directed by Orlando von Einsiedel. It chronicles the efforts of conservationists in Congo, struggling to preserve the Virunga National Park and its natural resources. Of prime concern is the mountain gorillas, which are some of the very few remaining in the entire world. The film opens with a concise but thorough overview of the history of the Congo from its earlier colonial days to the present, showing how Europe's division and exploitation of Africa has left a nasty stain. That legacy is shown in the film's contemporary context, as it weaves together various narrative threads of some key individuals (a French journalist, the park's director and a compassionate park ranger) all of whom are fighting against the conflicting influences of an ongoing civil war and the threat of oil exploration in the park. Their selfless contributions are brought together in a cohesive whole through the film's flawless editing, while the hands-off directing approach lets the story speak for itself. It's a beautiful film that packs a major emotional punch.
Rating:
★★★★
More so than narrative features, documentaries are often valued based on the intrigue of their subject matter. Dan Krauss' "
The Kill Team
" certainly acknowledges this, putting forth its horrifying topic in the very first scene. This is the story of a young soldier named Adam Winfield and his experiences in Afghanistan, where he witnessed his fellow compatriots killing innocent civilians for sport (after which, some even collected their remains as souvenirs). After attempting to blow the whistle, he eventually ends up being charged for the same crimes that he denounced. Using interviews and revealing footage/images, the film is uncompromising in how it investigates the warped psychology of young men who are trained to kill. Furthermore, it recounts the great anxiety surrounding Adam's impending trial and his growing disillusionment with the system. Though its filmmaking technique may not be anything special, I greatly admired its no-frills, deeply personal approach. This is truly shocking stuff and it absolutely deserves to be seen by a wider audience.
Rating:
★★★★
We all know the saying "looks can be deceiving" and "
Art and Craft
" certainly gives it some credence. The topic of this documentary is a man named Mark Landis, one of the most successful con artists of all time. To look at him, you'd never guess what he was able to pull off - forging famous art pieces and donating them to art museums all across America. Landis is an unassuming, creepy man (with an obsession with his dead mother) but if you pay attention you'll realize that he's actually a genius. The film is hilariously subversive, laying waste to our notions of exceptionalism in art. This utterly fascinating character study is so peculiar, you have to see it to believe it.
Rating:
★★★★1/2
Directed by Frank Pavich, "
Jodorowsky's Dune
" is a documentary with special interest for cinephiles. It recalls the pre-production (eventually scrapped due to lack of financing) behind Alejandro Jodorowsky's sci-fi epic "Dune". Over the years, it has become known as "the greatest movie never made" and this engrossing behind the scenes look certainly conveys this notion. Now 85 years old, Alejandro Jodorowsky still displays enormous passion and love for this project and the art of cinema in general. Though I wasn't entirely convinced that it would have been a "GOAT", this well-made documentary certainly presents a compelling argument.
Rating:
★★★★
Politics are at the forefront in "
Citizen Koch
", a documentary about the rise of the Tea Party in the United States. The film follows the aftermath of the Supreme Court's 2010 Citizen United ruling, which effectively allowed corporations to donate obscene amounts of money to influence elections. Of particular interest is a recall vote against Wisconsin governor Scott Walker, who went back on his word to serve the people by taking away the power of labor unions. As we witness all the despicable corruption that goes along with this, the film is very captivating. However, the filmmaking barely rises above your typical news item and the message is hardly eye-opening.
Rating:
★★★★
"
Finding Vivian Maier
" is another portrait of an artist, uncovering the secret life of its mysterious title character. That character is a nanny named Vivian Maier, whose extraordinary street photography revealed one of the most gifted individuals of our time. So why did she keep her talents and her background a secret? The quest for these answers is spearheaded by the thorough investigative work by John Maloof - who stumbled upon her photos in the first place - and it makes for a fascinating character study. This fine documentary will leave you in awe of her work, while still maintaining some of the enigmatic quality she cherished so dearly.
Rating:
★★★★1/2
One of the most tragic stories in this year's lineup is that of "
The Internet's Own Boy: The Story of Aaron Swartz
". At the young age of 26, Aaron Swartz killed himself after oppressive federal criminal charges for various acts of internet "fraud" (mainly for downloading academy journals for public use) left him unable to cope. It was a truly unfortunate end for one of our brightest young minds and this documentary goes to great lengths to show how incredibly influential he was. It's amazing for example, to see his influence on common web tools like RSS, Reddit and Creative Commons, in addition to his passionate efforts to promote social justice and positive change (like his anti-SOPA campaign). Unfortunately, the altruistic nature of his political activism is undermined by the film's clinical "60 Minutes" aesthetic. However, the film does get there in the end, as it conveys the greatness of not only his mind, but his heart. This is a must-see documentary for our internet age.
Rating:
★★★★
Here's how I'd rank these films (in order of preference):
Finding Vivian Maier
Art and Craft
Virunga
Jodorowsky's Dune
The Kill Team
Tales of the Grim Sleeper
The Internet's Own Boy: The Story of Aaron Swartz
Citizen Koch
My prediction:
Best Documentary Feature
Citizenfour
Life Itself
Last Days in Vietnam
The Overnighters
Art and Craft