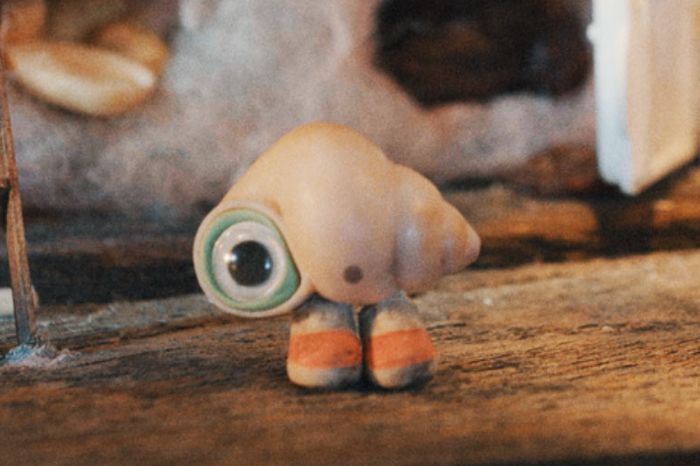 Who would've thought that one of the most profound films of the year would come from an animation-live action hybrid centered on a talking shell? If you'd told me that I'd be so deeply moved by a film with such a premise, I'd definitely give you a dubious look. But sometimes the best surprises come from the most unlikely sources, and so it is with Dean Fleischer Camp's wonderfully imaginative "Marcel the Shell with Shoes On".
Crafted in a mockumentary style, "Marcel the Shell with Shoes On" follows the titular Marcel - a tiny shell - living largely with his grandmother in a suburban home. The pair live mostly alone, save for the occasional Airbnb guest. The latest such guest is a film director (played by Fleisher Camp himself), who becomes fascinated with Marcel's peculiar life. As he gets acquainted with the miniscule creature, he decides to record their interactions and share them online with the world. Marcel quickly gains a popular following, but the attention is unable to replace the affection of his long lost family. And so, Marcel and Fleisher Camp embark on a near impossible mission to find them and the human couple who took them away.
As Marcel's story unfolds, it quickly becomes clear that this film is hardly a frivolous family movie. There's certainly much humor involved in the central pair's comfortable banter and a plethora of genius visual concepts (a "bread room" for a "bedroom" for example). But as Marcel introduces himself and his world, the script instantly establishes genuine emotional stakes. Marcel's feelings of isolation and loss create an undercurrent of loneliness that permeates his interactions with Fleisher Camp. Indeed, the mockumentary style brilliantly allows for vulnerable confessions surrounding the events surrounding the loss of his family and his desire to be reacquainted with them.
That we should care so much about a talking shell is largely due to the remarkable voice performance from Jenny Slate as Marcel. Known for similarly deft work in animation across film and TV, Slate delivers perhaps her best voice acting yet, tapping into sincere emotions with a tinge of whimsy that never tips over to being cloying. And the impact of the performance is all the more impressive for the film's visual choices, as the camera rarely meets Marcel at eye level.
Indeed, the film is unmistakably set in a human's world, featuring glimpses of human characters throughout. And from that towering perspective, it further emphasizes the vast unknown that Marcel faces in the search for his family. When he eventually ventures outside, his existential crisis is palpable. Meanwhile, Marcel's connection to his ailing grandmother (voiced by Isabella Rossellini) also offers several touching moments.
Adorable, affecting and amazingly inventive, "Marcel the Shell with Shoes On" is unlike any film I've seen this year (or any other year for that matter). Despite its unreal premise, it accomplishes cinema's long-touted attributes as an empathy machine. Companionship is a vital need in this big world, whether you're a 1-inch-tall shell or a grown human being.