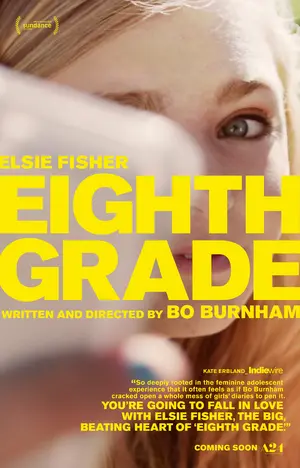 If you're anything like me, your middle/high school years were a trying time that you've long forgotten. The experience of watching Bo Burnham's debut feature "Eighth Grade" could therefore give you a feeling of déjà vu. This chronicle of an eight grader's life may not reflect your exact experience, but Burnham knowingly captures the essence of those anxiety-ridden years.
"Eighth Grade" is the story of a girl named Kayla. Like many kids her age, she has an active life on social media, even producing and starring in her own YouTube vlog. But her everyday life is a different situation altogether, with her school even naming her Most Quiet at a year-ending awards ceremony. Determined to shirk this label before she enters high school, sets forth to break out of her shell and make new friends. A tumultuous week awaits her, however, which will forever shape the person she aspires to be.
Elsie's journey of self discovery will surely be familiar to anyone who has dealt with the pressures of fitting in. Capturing all the awkwardness and insecurities of adolescence in painstaking detail, some scenes will surely have you cringing and peeking through a covered face. Burnham is so attuned to Kayla's perspective that every embarrassing moment or burst of joy is viscerally felt.
Speaking of Kayla's perspective, Elsie Fisher is the main reason why the character is so affecting. Delivering the year's most precious performance, her fumbling speech and eager energy feels absolutely genuine. Despite her young age, Fisher would not feel out of place in the
Best Actress
conversation at the Oscars.
While the film is primarily a showcase for Fisher, first timer Bo Burnham also shows tremendous talent with some brilliant directorial flourishes. Indeed, each major event is often introduced in slow motion with intense musical fanfare, signalling the emotional highs and lows which accompany them. With this ingenious touch, Burnham effectively conveys the extreme "best day ever" or "end of the world" feelings associated with pivotal social interactions.
Of course, going to a pool party or hanging out with friends may seem trivial in hindsight, but "Eighth Grade" also shows how formative these interactions can be. While the protagonist's endearing awkwardness mostly elicits hysterical laughter or relatable pathos, there are also some horrifying moments which remind us how our toxic gender dynamics and sexual politics are established at such a young age. Underneath Kayla's eager attitude is an unfortunate desperation to impress the opposite sex that is frustrating yet all too familiar.
As such, the film will resonate with audiences young and old (including Academy members, as it makes a strong case for
Best Picture
and
Best Original Screenplay
). Through her, we remember the people we used to be and the importance of those early relationships, whether it be with an encouraging father - a crucial but underwritten character - or the sincere support of a good friend. On the latter note, the film saves the best for last with a scene so sweet that it brought tears to my eyes. It's a heartwarming reminder that with the right people in your corner, everything's gonna be alright.