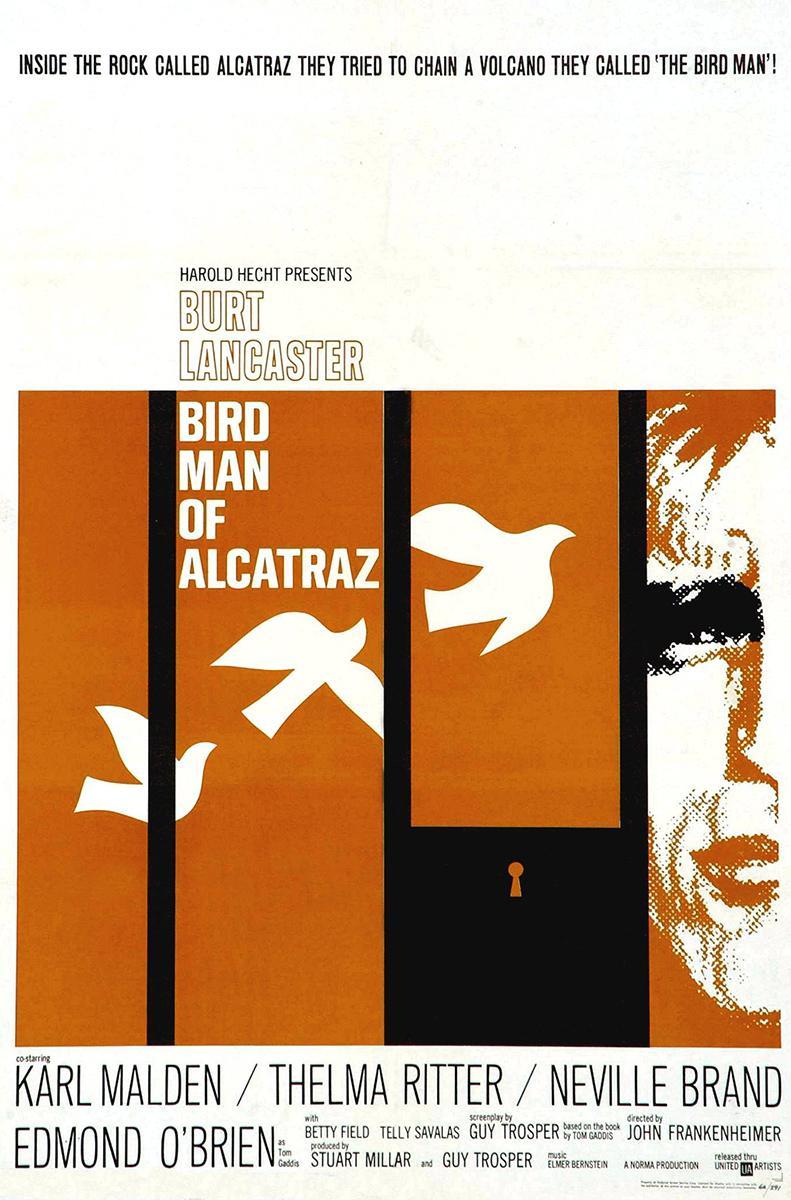 For this week's top pick, we turn to one of those "stranger than fiction" true stories that you have to see to believe. Based on real events which took place throughout the first half of the 20th century, it follows an incarcerated man named Robert Stroud who developed a unique fascination with birds while serving time. Directed by John Frankenheimer, the film stars Burt Lancaster in an Oscar-nominated role as the titular "Birdman of Alcatraz".
The film begins with our protagonist's arrival at Leavenworth Prison in 1912, a federal penitentiary in Kansas. We learn that he was convicted for murder in his hometown of Alaska, just one instance in a history of aggressive behavior. Much to the chagrin of the rigid prison warden at Leavenworth (Harvey Shoemaker, played by Karl Malden), Stroud's attitude is hardly affected by his imprisonment, as he fatally attacks a fellow inmate in the early years of his original sentence. The incident eventually leads to a legal battle between his protective mother and the state, which results in the overturn of his death sentence to a life in solitary confinement.
Resigned to a life of loneliness and solitude, Stroud begins Shoemaker's strict rehabilitation process, which involves a stupefying daily routine. But as the years go by, Stroud stumbles on a revived sense of purpose one day in the prison yard. Spotting an injured sparrow, he adopts it as his pet and nurtures it back to strength. And thus begins an incredible journey of a hardened criminal who becomes the nation's foremost expert on some of the most delicate creatures - birds.
Indeed, what a unique biopic this is, painting a surprisingly tender portrait of a notorious criminal. Frankenheimer revels in the inherent contradictions of the story, playing up the extreme oxymorons of Stroud's character. An infinitely fascinating individual, our first impressions of him are that of a murderous brute, yet also a vulnerable mama's boy who becomes a dedicated nurturer. And likewise, the stifling constraints of the rigid prison unexpectedly becomes a haven of new life as Stroud inspires his fellow inmates to become interested in the care and breeding of birds.
This evolution of Stroud and the setting coincides with the narrative's engaging passage of time. Apart from the film's considerable length - handled with the same patient care as Stroud himself - the film also makes use of impressive makeup work to reflect the long duration of Stroud's imprisonment. And the cast wears it well too, with strong performances from supporting actress extraordinaire Thelma Ritter as Stroud's controlling mother and of course, Burt Lancaster as our dauntless hero. At the beginning, he looks every bit the charismatic movie star we had come to know, but he brilliantly modifies his famously brawny stature to subtly convey the gradual weathering of his body, in contrast to his unfailing mind.
Such is this power of this central performance that by the time Stroud is transferred to the famously harsh Alacatraz prison, we don't need Lancaster's subsequent stirring monologues to understand the film's message of the great value of individuality, dignity and life itself. The nature of rehabilitation is directly addressed throughout the film and through Stroud, we get the word's true meaning. "Birdman of Alcatraz" could hardly be described as a "joyous" story, but in an intelligent film chock-full of surprises, the most pleasant one is this ability to ultimately inspire its audience.