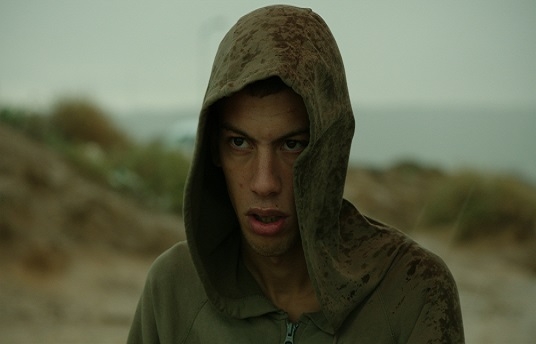 Back in early September, I fulfilled my dream of attending the Venice International Film Festival. Well...sort of. In truth, I took part in the festivities from the comfort of my own bedroom, as part of the festival's Sala Web initiative, allowing film fans worldwide to view a curated selection of titles from the official programme. This year, I opted for two films - Gabriel Mascaro's "Neon Bull" and Merzak Allouache's "Madame Courage". But while the former was a vibrant piece of world cinema, the latter unfortunately provided a strange situation where its synopsis felt more detailed than the story it actually told.
The plot summary that attracted me to the film reads as follows: "Omar, an unstable and lonely teenager, lives in a slum in the suburbs of Mostaganem, Algeria. He is addicted to a famous psychotropic, nicknamed "Madame Courage": Artane tablets, very popular among young Algerians, for their euphoric effect of invincibility. Omar is an expert thief. One morning, he goes downtown to commit his usual crimes. His first prey is a young girl called Selma, walking with her friends, prominently wearing a gold necklace. As he commits his larceny, their eyes meet."
Sounds interesting, right? An addiction drama with romance, set against a distinct cultural backdrop. Sadly, the film barely delivers any of the intrigue it promises.
First of all, the film's protagonist is too much of a blank slate. Played unsurprisingly by a first timer (Adlane Djemil), the performance lacks the personality or charisma to justify the dubious premise of the romance. As a result, that aspect of the film remains wholly unconvincing throughout, which in all fairness, has as much to do with the script's deficiencies as it does with Djemil's performance.
As the synopsis explains, Omar commits the robbery in broad daylight quite early in the film. Portrayed as an aggressive, traumatic event, the film struggles to overcome the harrowing nature of this incident to make any sort of romantic connection between Omar and Selma believable. Instead, he comes across as a creepy stalker. In fact, the film makes you wonder whether Allouache is making a judgmental statement about the lifestyle or social class that Omar represents. At one point, he inexplicably gawks at Selma for hours, firmly stationed beside a garbage-ridden dumpster, like a rat in its element. And as if to confirm my assessment of the film's non-existent chemistry, Selma even confronts the persistent Omar during the final act to ask "What's wrong with you? What do you want?"
Fortunately, the film doesn't rely solely on this romance between the thief and his victim. But it even falls short on the more typical aspects of its plot. The effect of the titular drug is virtually indecipherable and the violent crime it frequently depicts is pointless and off-putting. And ultimately, this was the last straw that finally broke my interest in this hapless, unpleasant film.