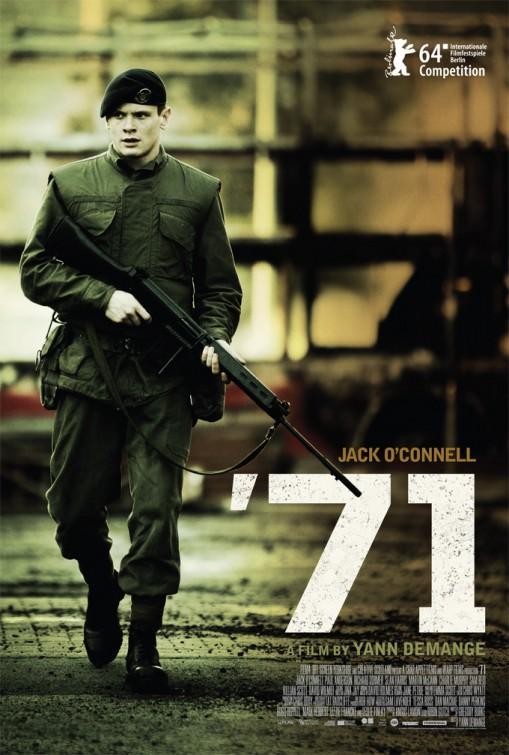 On the eve of his deployment to stabilize a volatile Belfast neighbourhood during the Northern Ireland conflict (aka The Troubles), a young British soldier named Gary Hook (played by Jack O'Connell) makes a promise to his younger brother. Reassuring him, he says "I'm not even leaving the country, so you've got nothing worry about". Little does Gary know of the nightmarish ordeal which will constitute the remainder of "71", the impressive debut feature from director Yann Demange.
Over the course of a single night, Gary will be separated from his squad and left to fend for himself in unsafe territory. Like an Irish version of the Gaza strip, the area is home to both warring factions - the Catholics and Protestants. Luckily, Gary initially finds himself in friendly Protestant company. But as he subsequently becomes abandoned and rescued several times over in these streets and homes, he'll soon realize that - contrary to his earlier belief - the most dangerous enemy is sometimes the wolf lurking right outside your door.
The striking domesticity of the conflict is one of the first things you notice in "71". Unlike some other wars throughout history, this one quite literally "hit people where they live", affecting personal liberties and religious freedom rather than higher level power struggles. And Demange takes this and runs with it, sending his protagonist on a obstacle-filled chase in the film's high stakes backyard games. He uses the setting as his playground, creating heartpounding thrills and tension in equal measure. And the result is a cinematic tour de force, with first-rate editing, sound design, cinematography, writing and direction.
And what a tremendous lead performance Jack O'Connell delivers too, crucial to the film's emotional resonance. He certainly looks the part, with a confident strut that convinces you of his capabilities. But although he's a quintessential action hero, his face betrays the vulnerable boy underneath, completely out of his depth as a fresh recruit. Such is the brilliance of his performance, which exudes raw, natural talent.
Indeed, "71" is a strong showcase for the abundant talent to be found in Britain's next generation of filmmakers (though French-born, Demange spent most of his life in the UK). It's even an interesting counterpoint to Paul Greengrass' own recreation of The Troubles in 2002's "Bloody Sunday". That film was a breakthrough critical and award-winning success for the director, and the rest is history. On the evidence provided here, Demange could very well follow that same upward trajectory. One of the best things about "71" is that it's a thriller that knows exactly when to slow down and catch its breath. And like a smart athlete, this approach to filmmaking and his career bodes well for Demange's bright - and hopefully long-lasting - future in the business.