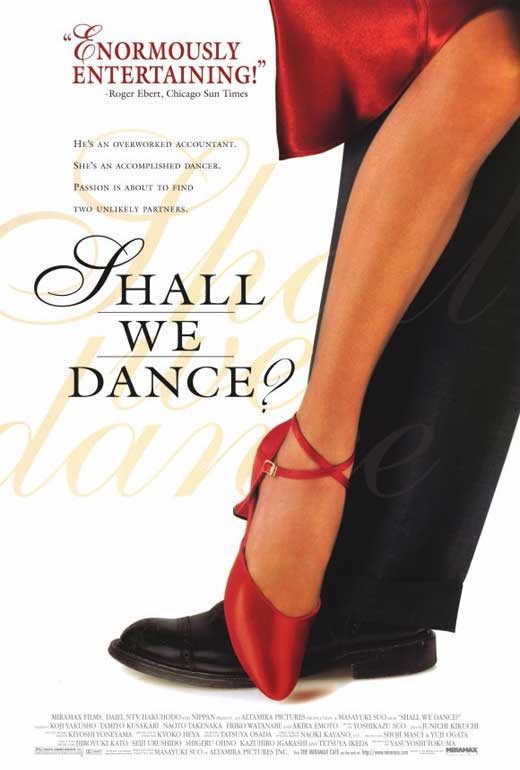 Back in the 1997 awards season, a foreign film landed on American shores that seemed to universally capture the hearts of the nation's critics. Among the various high profile groups, it was either winning the Foreign Language Film award (BFCA, OFCS, NBR), or finishing in 2nd place (NYFCC, LAFCA, Boston Society of Film Critics). No, it wasn't a harrowing war drama or an obtuse art film. Rather, it was an unassuming Japanese drama about ballroom dancing titled "Shall We Dance?".
If the name sounds familiar, then you've perhaps seen the 2004 American remake starring Richard Gere. As you know, that one wasn't as well-received by this one certainly was. Both films tell the story of an overworked middle-aged man who has lost his zest for life. In this original version, the lead role (Shohei) is played by Koji Yakusho. One day during his regular commute from his accounting job, he spots a beautiful young woman (named Mai) in the window of a dance studio. Staring wistfully into the distance, she has him entranced and he soon devises a way to meet her. Eventually, he signs up for dance lessons in her studio, hoping to use the opportunity to get to know her better. Of course, she doesn't immediately fall at his feet and Shohei must then save face by seriously committing to his dance training.
Before the film gets into the meat of the plot, it sets the stage with a voice-over narration. In it Shohei explains Japan's conservative culture, whereby couples don't engage in public displays of affection. As such, ballroom dance is frowned upon for the expressive physical and emotional connection it requires. Even worse is when it's done between strangers. At the end of the narration however, Shohei notes that many Japanese are secretly fans of ballroom dance for the joy it brings.
For much of the film, this joy is clear. It's evident in our lead character whether he's energetically cycling down the street or blissfully dancing in the rain. Sharing the sentiment is his co-worker Tomio, another student at the studio who is a ballroom dance fanatic. Played by Naoto Takenaka, he provides the film's comic relief. Mugging away with a tacky wig and exaggerated gestures, he lacks the skill but has all the enthusiasm. Together with other students and instructors (Reiko Kusamura is particularly lovely as the kind, mature Tamako) they successfully convey the exhilaration that the film tries to get across. To further establish this, the person in the studio who is least keen - Mai, due to events in her past - is also the one who is most unhappy.
Where the film does falter for me though, is in exploring the social effects of Shohei's new hobby, as stated in the opening narration. Despite his romantic desires, Shohei is in fact a married man (with a daughter too). Due to the stigma of ballroom dance then (and the potential infidelity of course), he keeps his endeavours secret from his wife. It's a seemingly important aspect of the plot, as his absence does not go unnoticed at home. It's therefore curious and disappointing that the domestic drama (the source of his discontent in the first place) isn't addressed significantly until he's well on his way to becoming a champion dancer (it is a dance movie after all). Instead we spend a lot of time watching Tomio's eyesore dancing, time which could have easily been replaced to confront Shohei's family life just a little bit. Perhaps this was never the focus of the film, but it feels like a missed opportunity to fully enlighten the audience to the unique implications for this man, in this culture.
Having now watched the film, I'm still surprised that it became such a critical darling but I can see why it would inspire widespread appreciation. It doesn't satisfyingly fulfill all of its potential, but it gives you just enough surprises to feel fresh and compelling. Most importantly, it successfully translates the joy of dance to the viewer and leaves you on a high.