This week's selection for Oldie Goldies tells a classic tale - "The Adventures of Robin Hood". The style of this film is clearly old-fashioned, so it's one of those instances where you can't scrutinize it based on modern standards. With that in mind, its a perfectly enjoyable recreation of this popular story. The film picked up a trio of Oscars (Best Art Direction, Best Editing and Best Original Score) and was also nominated for Best Picture.
Classic Quote
"Lady Marian Fitzswalter: Why, you speak treason!

Robin Hood: Fluently."
Classic Scene
"Welcome to Sherwood"
Classic Characters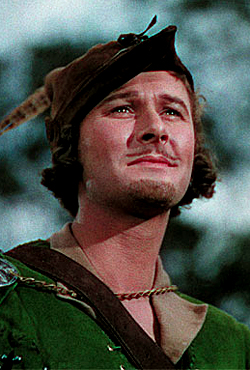 Robin Hood (Errol Flynn)
Sir Guy of Gisbourne (Basil Rathbone)
Classic Costumes
Classic Music
Did you know?
Padded stunt men and bit players were paid $150 per arrow for being shot by professional archer Howard Hill, who was cast as Owen the Welshman, an archer defeated in the tournament by Robin.