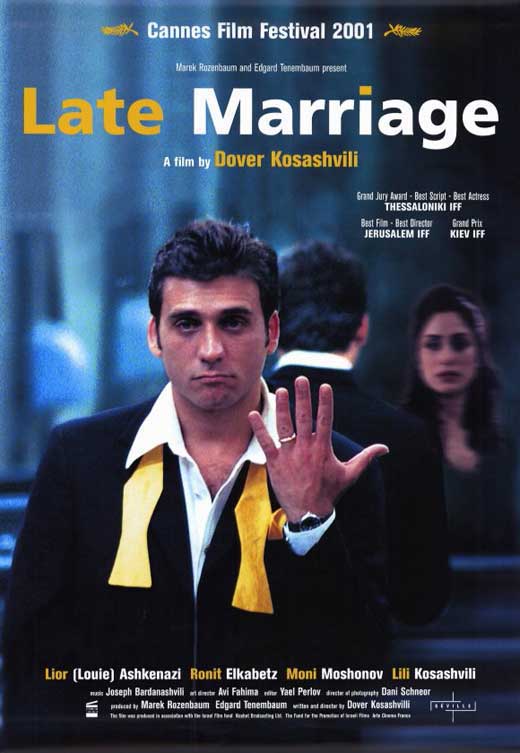 When it comes to foreign film, the conversation often surrounds a select few countries like Italy, France, Spain etc. Since the turn of the century however, there's another under-discussed film movement that's become just as exciting - contemporary Israeli cinema. One such example of this is 2001's "Late Marriage", directed by Dover Koshashvili.
"Late Marriage" is a story of family, tradition, love and the complicated space in which they coexist. 31-year old PhD student Zaza (played by Lior Ashkenazi) learns this first hand in the film, as his parents have pushed him into the traditional marriage hunt that's typical of his Georgian-Jewish heritage. We get to see one of these arranged courtships early in the film, as he meets a young high school girl upon the urging of both families. Neither party is too keen however, much to the dismay of both families, who wait outside of the girl's room expecting a decision. Unsurprisingly, Zaza uses an "I'll think about it" excuse and he's on to the next one. After yet another failed matchmaking attempt, both the family and the audience are left wondering...why can't Zaza commit?
As it turns out, Zaza has already found love, engaging in a secret romance with a beautiful divorcee named Judith (Ronit Elkabetz). Unfortunately, his family customs prohibit him from marrying her, as she's neither a young virgin nor is she sufficiently wealthy. Stuck between a rock and a hard place, Zaza must now decide whether family or true love is more important.
From its opening moments, "Late Marriage" is a fascinating look at this culture. The two families are cordially seated in the living room, but the excitement is muted. Despite the romantic intentions, the occasion feels more like a business transaction. Zaza's father even states, "Too much importance is given to the heart and love." Furthermore, the tradition disallows any drinks from being served.
This serious attitude manifests itself in even more interesting ways later in the story. When Zaza's parents learn of his secret affair, their reaction reflects an almost mafia-like condescension and contempt. It's undoubtedly the effect of a partriarchy, but one where the women are willing accomplices. As Zaza's mother, Lili Koshashvili is brilliantly demonstrative in this regard, conveying that unique motherly combination of disappointment and vexation on her expressive face. When she firmly declares that she'll not accept a divorced woman into her household, you believe every word.
The screenplay is truly remarkable in the way it explores the generational divide that causes the central conflict. What really brings it all together though, is the sort of droll sense of humor that accompanies all the tension and drama. There's a strong sense of the folly of the entire ordeal, depicted in a way that's simultaneously sad and hilarious. It comes across clearly in the obvious chemistry between Zaza and Judith (largely due to a superb pair of performances from Ashkenazi and Elkabetz), as well as the reluctant admission of such by his antagonistic family.
As the film's domestic conflict plays out in front of our eyes, "Late Marriage" proves itself to be outstandingly perceptive. It's the kind of narrative that just gets richer and richer as it goes along, with an ending that gives you much to ponder. I can't recommend this film highly enough. If you haven't seen it, do seek it out. It's absolutely one of the best films of the 2000s.