Aside from the year 2012, this year's crop of Oscar contenders for Best Animated Feature is one of the strongest in recent times. Indeed, from the sampling of finalists I saw, I was quite impressed with the overall quality of the field. With a range of styles from hand-drawn to CGI, diversity in themes and a true international flavor, the films are a great representation of the animation world today. As always, I've written down some thoughts on all the ones I've seen (11 out of 27), in addition to my personal ranking and final predictions:
As always, there's no short of talking animal flicks in this year's Animated Feature race and "
Zootopia
" is no exception. Set in the bustling city which gives the film its name, "Zootopia" follows a determined bunny cop (the first ever) named Judy Hopps (voiced brilliantly by Ginnifer Goodwin) from the countryside, who vows to shatter expectations to be the best cop and make a difference. But society and her superiors threaten to keep her down, even though her smarts would prove an asset in a mysterious case involving missing animals. As Judy teams up with an unlikely fox companion named Nick to solve the case, the script uses the diversity of the animals to craft a potent allegory about racial discrimination and prejudice. And coupled with gorgeously detailed world-building and a catchy theme song, the result is another delightful hit for Disney.
Rating:
★★★★
After 2013's hilarious apocalypse spoof "This is the End", writing partners Seth Rogen and Evan Goldberg are back at it again with another satire called "
Sausage Party
". On the surface, this film about talking grocery products clamoring to be chosen for the heavenly outside world could be mistaken for another adorable Pixar flick. But this animated entry is certainly catered to adults, filled with all the perverted, foul-mouthed humour you would expect. Indeed, though it certainly earns its R rating, there is still a juvenile quality to its fratboy emphasis on sexual puns, which isn't as clever as the writers clearly think it is. But while it tests the limits of good taste, the film is undeniably funny and surprisingly deep. As the characters gradually learn the truth about their intended purpose, it sets up a not-so-subtle critique of religion and the perils of irrational blind faith, which gives this raucous adventure some substance to add to its endless laughs.
Rating:
★★★★
If there is one thing that the current hoopla surrounding Disney's upcoming live action "Mulan" proves, it's the evolving tastes of today's audiences. Amid the anti-whitewashing protests, many were also concerned about the perceived prominence of the romance element. Indeed, audiences are no longer satisfied with the "princess needs Prince Charming for her happily ever after" story. They instead crave stronger, more independent female characters from their animated films. One such example is the protagonist of Rémi Chayé's debut feature "
Long Way North
," who desires adventure rather than romance.
Rating:
★★★★
Full Review
Ever since winning the first ever Animated Feature Oscar, Dreamworks Animation has held a steady presence among the annual nominations. But while their Disney/Pixar rivals have energized the world of American animation with mostly original material, Dreamworks has unfortunately relied heavily on familiarity. Such is the case with "
Trolls
", a simplistic adventure about a world where trolls live carelessly in a constate state of festive happiness, in a secret place far from the miserable Bergens (who feed on trolls to be happy). One day, a group of these happy trolls are found and captured after a particularly noisy party, forcing their peppy ringleader (voiced by Anna Kendrick) to go on a dangerous quest to Bergen Town to save them, with the cynically pragmatic Branch in tow. When I saw the early reviews (84% on Rotten Tomatoes) for Dreamworks' latest candy-colored confection "Trolls", I was admittedly perplexed. The trailers suggested a run-of-the-mill cash grab adventure aimed squarely at kids to sell product. What could be so special about that? Well, having now seen the film I must declare it one of my guilty pleasures of the year. Yes, its plot and music are shamelessly unoriginal and the characters' actions are often nonsensical. And yet, its relentless energy won me over and its sentimental moments are surprisingly affecting.
Rating:
★★★1/2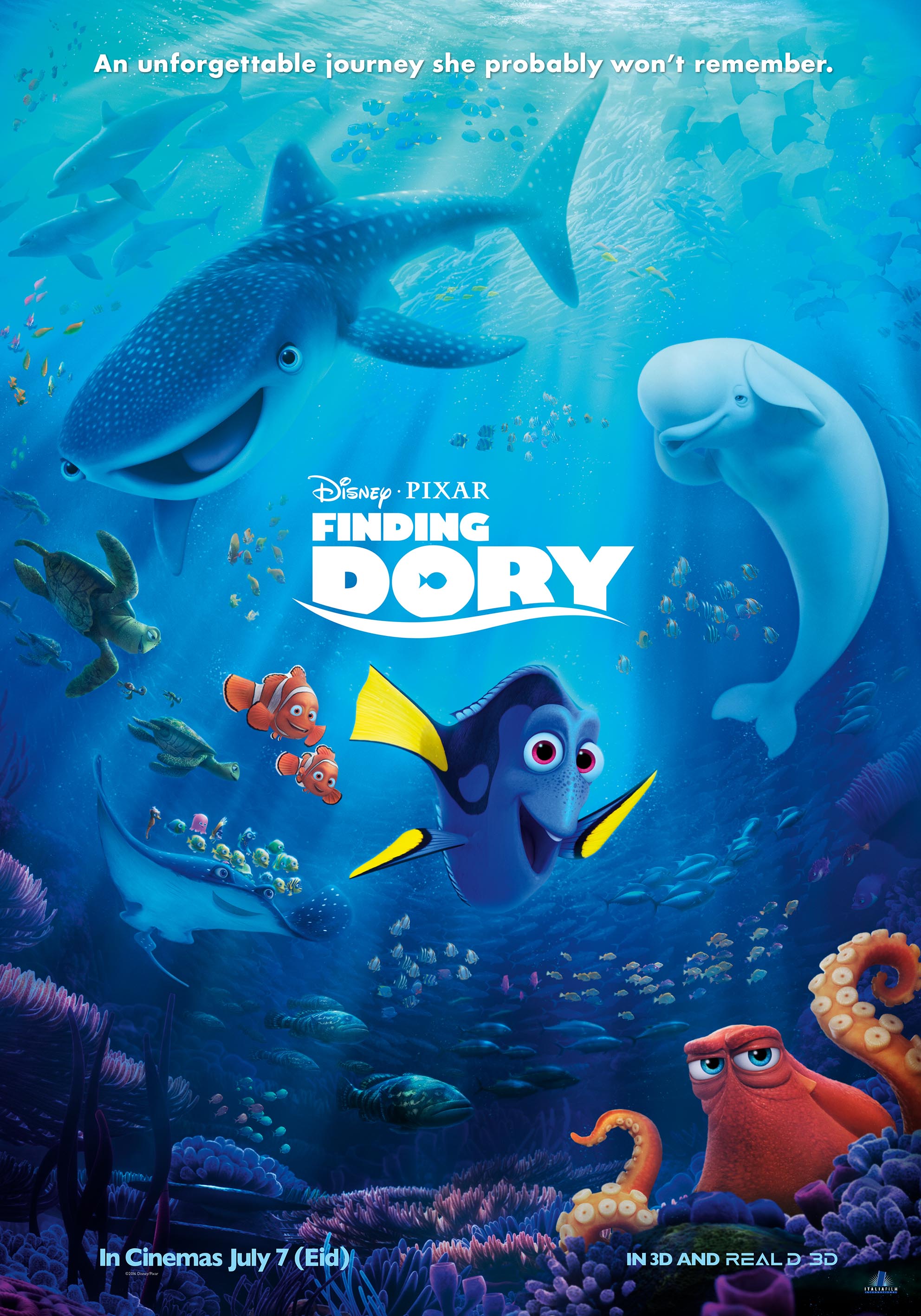 Defending champs Pixar are back at it again with a sequel to their 2003 Oscar winner "Finding Nemo". In "
Finding Dory
", another epic journey begins when the every forgetful Dory sets out to find her long lost family, forcing her friends Nemo and Marlin to follow suit and track her down. Much like "Nemo", the premise sets up some impressively animated environments, but this time much of the action takes place above ground as Dory finds herself in a Marine Life Institute. As a result, the film loses some of the wondrous majesty of the open sea, which unfortunately draws attention to the uninspired screenplay. It's all entertaining enough and the emotional undertow associated with these beloved characters certainly pulls you in. But ultimately, it feels like a dumbed-down Saturday morning TV version of what we've come to expect from PIXAR and the reputation of the original film.
Rating:
★★★
The magical possibilities of animation are on full display in the inventive "
The Little Prince
", directed by Mark Osbourne. Based on a 1943 novel by the same name, "The Little Prince" tells the story of a little girl whose life follows a strict regiment determined by her mother. One day however, her peculiar neighbor introduces her to a new world beyond her wildest dreams. This fantastical world is that of the titular prince, who met the neighbor in the Sahara desert and told him of his home, a planet not much larger than himself. Mixing the contemporary 3D style with gorgeously textured stop motion animation, "The Little Prince" is a thrillingly imaginative film. And with its use of elegant storytelling, it offers up a fable about love, loneliness and the irreplaceable joys of childhood. Indeed, as our protagonist broadens her horizons by breaking the rules, the film is bound to stir up your emotions. And although the story's allegorical power doesn't quite hold up all the way through, it's a still a thoroughly wondrous ride.
Rating:
★★★★
We don't immediately think of animation when we mention good sci-fi or fantasy films. But of course, the medium has certainly provided some of the most thought-provoking concepts over the years. One such example that merits discussion is "
Your Name
" from Japanese director Makoto Shinkai, a moving anime adventure about space, time and matters of the heart.
Rating:
★★★★
Full Review
With a title like "
My Life as a Zucchini
," you'd be forgiven for thinking that Claude Barras' new animated film would be a happy-go-lucky story with talking vegetables. But you would be sadly mistaken. Barras takes animation down rarely trod paths with this heartrending film centered around children dealing with issues surrounding death, depression and abandonment.
Rating:
★★★★
Full Review
As one of the most promising animation studios in the business, any new Laika film is a major event. And their latest - "
Kubo and the Two Strings
" - is their most spectacular yet. This visually stunning stop-motion film follows a young boy on a quest to find a magical suit of armor to stop the evil forces from within his own family. With the aid of a pair of bickering - and frankly, disposable - sidekicks, he goes on an epic adventure, depicted with amazing sense of scale through impeccable art direction. On a storytelling level, the film mostly explores familiar thematic concepts and character tropes. And in doing so, it really delivers some thrilling action. But it's only when the story slows down to reveal its intimate emotional core that it touches on the sublime. Laika has done it again with this thoroughly entertaining beauty.
Rating:
★★★★
While Pixar films like "Zootopia" use the talking animal concept to explore poignant themes relevant to human society, you could never mistake them with films like "
Sing
" from Illumination Entertainment (the minds behind the juvenile "Despicable Me" franchise). In this fluffy piece of pop-infused entertainment, a struggling theater owner named Buster Moon attempts to save his theater by staging a singing competition. And thus, we get a slew of jokes relating to an eclectic collection of animals performing chart-topping hits, among other hijinks. But what starts out as an amusing gimmick soon wears thin, as the lazy writing doesn't affort the characters much depth aside from Buster Moon (voiced by Matthew McConaughey). Furthermore, the sideplots (involving thuggish bears and mobster gorrillas) feels like shoehorned adventure to excite the kids. If it weren't for the exuberant, show-stopping finale, this film would be a dud.
Rating:
★★★
A man gets caught in a storm and washes up ashore on a deserted island. So begins Michaël Dudok de Wit's marvelous film "
The Red Turtle
". As our castaway plots his survival and escape, Dudok de Wit astounds with majestic widescreen vistas and unexpected revelations. And perhaps most surprising is how Dudok de Wit crafts a story full of danger, wonder, tragedy, tension, humor, magic and adventure without a word of dialogue. Coupled with a gorgeous score, it's a true testament to the sophisticated possibilities of animation. A must-see.
Rating:
★★★★
My personal ballot (in ranking order):
The Red Turtle
Zootopia
Kubo and the Two Strings
The Little Prince
My Life as a Zucchini
Your Name
Sausage Party
Long Way North
Trolls
Finding Dory
Sing
My prediction:
Best Animated Feature
Zootopia
Kubo and the Two Strings
Moana
Finding Dory
My Life as a Zucchini